The John King Young Artist Award
Competition Results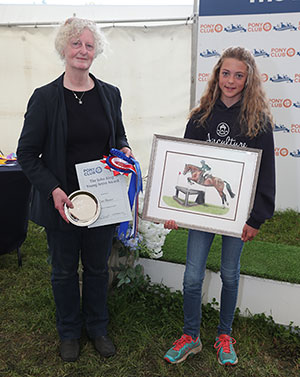 Following the conclusion of this year's competition at The Pony Club Championships, we are pleased to announce that theoverall winner was Cara from the Grafton Branch!
The judges commented on the exceptionally high standard which made the final decision harder than ever. Cara will now have the opportunity to have her artwork displayed at the SEA's Horse in Art exhibition in September!
Full Results:
Overall Winner: Cara (Grafton)
Runner-Up: Sophie (North Norfolk)
Runner-Up: Charlotte (Tumpy Green Equestrian Centre)
Special Commendation: Xakiera (Cambridgeshire Hunt)
Special Commendation: Nicol (East Sussex)
The John King Young Artist Award
This year, The Pony Club has once again teamed up with the Society of Equestrian Artists to run its annual art competition, now known as the John King Young Artist Award.
The deadline for entering the competition is 17th July 2017 - you can upload your entry online via this website, just be sure to read about the competition theme below and check the rules first!
How do I enter?
Once you've completed your artwork, you just need to take a photo of it and upload the image to this website. The image upload facility will be available until the competition's closing date (17th July 2017).
2017 Competition Theme
The theme for 2017 is "Memories" - some ideas which you may wish to base your artwork around are as follows:
Your favourite memories from Pony Club camp
Your first pony/ your favourite pony from your Pony Club Centre
The first time you tried show jumping
When uploading your entry, you'll be asked to provide a brief description of what your artwork depicts.
If you have any queries about the competition, please email Marty Bibby, marty@pcuk.org for more details.
Good luck - we look forward to receiving your entries!
Previous Entries
Check out these great entries from past years!